Relax and unwind in Lucca, pearl of Tuscany.
The city of Lucca is just a stone's throw from the Mediterranean Sea. Our properties enjoy an enviable position, tucked away in the hills, built in a traditional style. They are the touch that makes the landscape so breathtaking.
Our villas are at a crossroads between Pisa, Lucca and Florence. The city is lively and animated, contrasting with the calm and tranquillity of our homes. Whether you are with family or friends, Tuscany is a slice of paradise that will delight your guests. You have everything you need for an unforgettable stay in a luxury villa. Whether you want to rent a villa of a wedding or a family reunion, our charming villas will brighten your stay in Italy.
Tuscany is surrounded by olive groves which stretch for miles on end, each with their own unique features.
Many activities are on offer: taste some of the best olive oil and spirits of Italy. In the towns, stop off at one of the many enotecas and raise a glass to Bacchus, ancient god of wines! Don't forget the strolls through the medieval streets of Lucca or a hike in the hills that house the historic thermal baths. Designed for outdoor living, our properties made of authentic stones embody the spirit of Tuscany, its idyllic dolce vita lifestyle. We guarantee you will not tire of the views over olive groves winding through the rugged landscape. Our villas are tranquil oases of peace, while still easily accessible at less than half an hour from two international airports. Between walks along the seashore or hikes in the steep mountains, there is plenty to occupy you. The fully-equipped kitchens will allow you to easily prepare your favourite Italian dishes just the maestros! Burrata, prosciutto or mozzarella, the culinary delights of Tuscany are inexhaustible.
Discover the hidden treasures of Tuscany in one of our hand-picked villas, be it a former wine-grower's residence or an elegant period property.
More details...
Experiences to live around the properties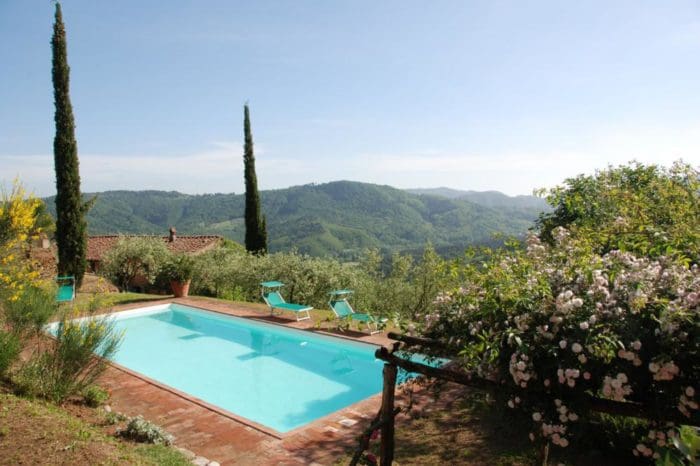 5 reasons why Lucca should be next on your list